Alcatel Axia Unlock Code
Buying Alcatel Axia from a network carrier brings you some benefits in form of subsidy in price but it also means you didn't buy Alcatel Axia unlocked and that brings you restriction of using other networks by putting a sim lock. If you want to avoid any restriction and want to get your Alcatel Axia unlocked and thinking how to unlock my Alcatel Axia, we got you. With our fastest and safest service you can have your Alcatel Axia unlocked, you are not gonna unlock Alcatel Axia for free but you'll get it in minimum price.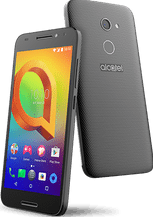 You can also unlock Cricket Moto G6 Forge XT1922 Carrier.
How To Unlock Alcatel Axia?
The fastest way to get Alcatel Axia network unlocked is by network unlock code for Axia and it is the only legal way. Unlock code can be obtained from network's or manufacturer's database. And with the help of your IMEI # we can provide you your Axia network unlock code.


How To Find IMEI # Of Alcatel Axia
IMEI # of every phone is often found underneath the battery of every phone and you can also find IMEI # by dialing *#06#. You can read about how to find IMEI number of your phone here.
How To Enter Alcatel Axia Sim Unlock Code?
Just change the sim to the one that is not accepted by your Axia and "enter unlock code" or "Sim Network Unlock Pin" menu will pop up. Just enter the sim unlock code sent by us and you'll get Alcatel Axia sim unlocked forever.
Risks Involved In Unlocking Alcatel Axia
Since unlock code are obtained straight from official database so there are no risks involve in the whole process.Neither you need to send your Alcatel Axia to us for unlocking so no chance of getting Alcatel Axia misplace. You can read more about  risks involved in unlocking process here.
Benefits Of Unlocking Alcatel Axia
Unlocking your Alcatel Axia is very beneficial as it allows you to use your Alcatel Axia on any gsm network and choose most affordable packages. You can read more  benefits of unlocking your phone here
You can also unlock moto e5 play metropcs.
At letsunlockphone.com, our unlock process is totally legal. Other than that you get a very satisfactory customer service because our staff is devoted 24/7 to provide you best of the best. We are specialists when it comes to unlocking any phone with unlock code (such as at&t, Cricket, rogers, fido, bell, telus etc) whether you have phone from USA (like at&t, Cricket, etc) or or Canada (rogers, fido, bell, telus, fido, koodoo, videotron, etc).You also get 100% money back guaranty. So what are you waiting for :). Unlocking moto e5 play t-mobile is also very easy.
Note
Kindly, before ordering any service check if "network unlock pin" menu appears when you change the sim.
Kindly, order the unlocking service of network your phone is currently locked on.
We don't unlock security lock on at&t or other phones, we only unlock sim network lock imposed by at&t or other networks (like Cricket, rogers, fido, bell, telus etc) on your device.