Unlock Sprint Motorola Moto E5 Play By Motorola Unlock Code
Network restriction that Sprint has put on your Moto E5 Play is annoying to say the least.Because at the end of the day you should be able to move in the world while staying connected with others wherever in the world you are. Here you can solve this issue and unlock Moto E5 Play Sprint very easily and in very cheap price. With us you can unlock Moto E5 Play Sprint Carrier in quickest time.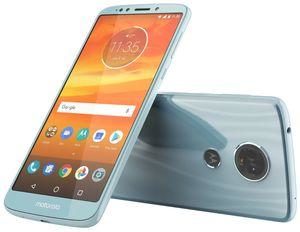 You can also carrier unlock MetroPCS Moto E5 Play.
How To Unlock Sprint Motorola Moto E5 Play?
The only legal and official method to unlock your phone is by Moto E5 Play unlock code. The main thing you need to Carrier unlock Sprint Motorola E5 Play is IMEI number. You can find IMEI  by dialing *#06# on the dialer app of E5 Play.
If your phone doesn't ask for unlock code
We'll unlock your phone by USB cable unlocking method. This is instant unlocking method in which you just have to connect your phone with PC and we'll unlock your phone instantly. All the other things are same as unlock code. Such as you'll be able to update or hard reset your phone and you're phone will still be unlocked. You dont have to share your computer or just computer screen so this method doesn't endanger your privacy or your personal data.

How To Order Unlock Code For Sprint Motorola Moto E5 Play
Getting unlock code Sprint Motorola phone is very simple. Just visit LetsUnlockPhone.com give them your IMEI and your email and checkout with PAYPAL. They'll send you your Sprint unlock code for Moto E5 Play in no time.
How To Enter Unlock Code In Sprint Motorola Moto E5 Play
Just insert a new sim which is unsupported by Motorola Moto E5 Play , SIM network unlock pin menu will pop up. Now just enter your unlock code carefully and your Sprint Motorola Moto E5 Play will be unlocked.
Why Unlock Sprint Motorola Moto E5 Play?
There are multiple benefits of unlocking Motorola Moto E5 Play:
1:Unlocking your phone Guarantees you freedom to use any network's sim.
2:You can avoid paying hefty roaming charges while traveling by buying new sim from your destination place.
3:You don't need to do any work on software or hardware side to get these benefits.
4:Unlocked phone tends to increase its value over time.
FAQs
Q:Is unlocking your phone 100% guaranteed with unlock code?
A:yes you can be 100% sure that your phone will be unlocked with Sprint unlock code.
Q:Is their any rooting jailbreak or any other software based activity is involved in unlocking your phone by unlock code?
A:No, you just need a new sim card and Motorola Moto E5 unlock code for unlocking phone .
Q:Does unlock code for your phone expires? Do i have to enter it right away?
A:No you can enter your unlock code whenever you need to unlock your phone . The unlock code doesn't expire.
Q:Will this unlock code gonna unlock my phone permanently?
A:Yes this is the only permanent method to unlock phone .
Q:Will i be able to still use Tracfone sim in my sim unlocked phone ?
A:Yes you'll be able to use whatever sim you want to use in unlocked phone .
Q:Will unlocking my phone gonna its void warranty?
A:No, unlocking doesn't effect warranty or contract of your phone.
Q:Will unlocking Motorola Moto E5 gonna reset it or remove any thing from the phone?
A:No, unlocking does not have any effect on the storage or setting of your phone .
Buyer Requirements To Get Motorola Moto E5 Sprint Unlock Code
Before ordering unlock code, make sure that your phone is not already unlocked by inserting new sim in your your phone.
Make sure your phone is not reported stolen or blacklisted.
Be sure that your phone have enough tries left to enter unlock code and its not hard locked.
Make sure that the IMEI you have entered in the buying form is correct, so check it twice or thrice.