Unlock Samsung Galaxy Note 9
Samsung Galaxy Note 9 is no way a cheap or pocket friendly priced phone and thats something that was expected. But there is no need to panic, if you really want galaxy note 9 but can't afford it, you can always buy it with a contract from at&t for a better price. That does cost you less, but on the other hand the disadvantage of buying samsung galaxy note 9 in contract is that the note 9 is carrier locked by at&t and you will be stuck with at&t for the time period of contract. But we can show you a way to sim unlock samsung galaxy note 9 and be able to use it in any network around the world.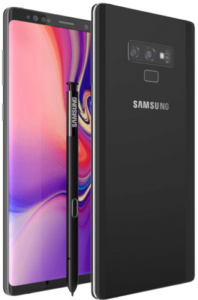 How To Unlock Samsung Galaxy Note 9
So there are too main safe methods to carrier unlock samsung galaxy note 9. One is asking at&t carrier to unlock your phone. But there are some difficulties and requirements for that and most of the time you end up being disappointed form the carrier. The second method is to get at&t unlock code for samsung galaxy note 9 by third party supplier. The latter is by far easiest and safest because it doesn't hurt your at&t galaxy note 9 in any way and its cheap and permanent.
Requirements For AT&T Galaxy Note 9
To get samsung galaxy note 9 at&t unlock code from us you don't need to fulfill a lot of requirements. You just need the IMEI number of your note 9. You can find IMEI of note nine by opening the dailer app and type *#06#, when you dial this IMEI will appear on the screen. You can also find IMEI number by going in to settings of your galaxy note 9 and check "about" section. You can read more about finding IMEI of your phone in blog.
The other thing required for at&t unlock code for samsung note 9 is a working e-mail address, to receive unlock code from us.
The other thing required is another network's sim that's currently not working on your phone.
How To Order Unlock Code For AT&T Samsung Note 9
Ordering unlock code for note 9 is simple. Just fill out the form by first writing your IMEI number, make sure the IMEI number is 100% correct so check the IMEi number twice or thrice. Then write the email address and your name and checkout on the payment page.
How To Enter AT&T Unlock Code In Note 9
After we receive your order, we'll process your unlocking request and in the time stated we'll send you AT&T unlock code on your email address.Then just switch off your phone, insert non-supported sim card from another carrier and turn your phone back on. The "SIM Network Unlock Pin" menu will appear on the screen. Just enter the note 9 unlock code we've sent you and your phone will be unlocked for eternity.
Why Unlock AT&T Galaxy Note 9
Unlocked Galaxy note 9 will attract more buyers and network unlocked phones tend to sell easily as compared to locked phones and brings better resale value. Besides getting good money, you can switch to any network that offers better value for money and have bigger coverage area. Plus you don't have to pay hefty roaming charges while traveling. We have discussed more advantages of unlocking phone.
Risks In Unlocking AT&T Note 9
There are no risks in unlocking samsung galaxy note 9 because unlocking AT&T with at&t unlock code is the legal and official method and it unlocks note 9 permanently. You don't have to change firmware so there is no risk of damaging your phone. We have discussed more about risks involved in unlocking process.
FAQs
Q:Do i have to root note 9 to unlock it?
A:No, you only need note 9 unlock code to unlock.
Q:Does unlocking my note 9 void its warranty?
A:No unlocking with at&t unlock code is the official method and it does not void your warranty.
Q:Does unlocking Samsung note 9 effect my contract?
A:No unlocking does not have any effect on contract.
Q:Which network will be supported after unlocking galaxy note 9?
A:After unlocking your at&t galaxy note 9 you can use any GSM network's sim from any where.
Q:Is unlocking Note 9 samsung legal?
A:Yes its 100% legal and allowed by govt and networks.
Requirements From Buyers To Get Unlock Code
Buyer need to make sure note 9 at&t is not hard locked and it has attempts to enter unlock code.
Buyer need to make sure that galaxy note 9 is not reported stolen or blacklisted.
Buyer need to make sure that he has given us the right IMEI otherwise you wont get a refund.
Why unlock Samsung Galaxy Note 9 From AT&T By LetsUnlockPhone.Com?
Here at LetsUnlockPhone, you get a 100% money back guaranty(read refund policy here) along with very esteemy customer service. We are specialists when it comes to unlocking any phone with unlock code (such as AT&T, Cricket, Rogers, Fido, Bell, Telus etc) whether you have phone from USA (like AT&T, Cricket, etc) or or Canada (Rogers, Fido, Bell, Telus, Fido, Koodoo, Videotron, etc).
Note
Before ordering unlocking service of AT&T Phoenix Plus kindly check if "Network Unlock Pin" menu appears when you insert the non-accepted network sim in your Galaxy Note 9 i.e other than AT&T Network SIM .
While ordering unlock code for AT&T Note 9 please select your current Network Provider you phone is working on, we won't be responsible for refund if you choose wrong network on order page.
We don't unlock security lock on AT&T or other network's phones, we only Unlock Sim Network Lock imposed by AT&T or other networks (like Cricket, rogers, fido, bell, telus etc) on your Note 9.