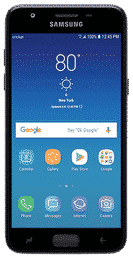 Today we're gonna be taking a look at Cricket Wireless in the samsung galaxy amp prime 3 so let's go ahead and take a look at some of these specs and some of this and this offer right here and just kind of deduce you know what we think. So this is the samsung galaxy amp prime 3 so I mean you know so right off the bat guys I see a glaring a glaring issue for the hundred and thirty dollars with I'm going to show you guys the specs here the specs are really low on this particular device and I mean it's just in my opinion I'm gonna say right off the bat that that price range is just not a good price whatsoever.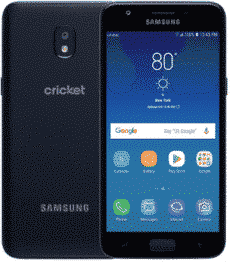 So and let's go ahead and take a look at the design of the samsung galaxy amp prime 3 it looks like the same design guys that's like usual so we're gonna go ahead and take a look at side view here it's like it's very ho-hum very kind of just like the same ish you got your big old Cricut tramp stamp on the back like huge on the back not even like at the bottom or anything like that's right in the middle and then you got that you know you got that kind of just whatever design on the back and your big samsung branding on the back as well so just not really appealing looking to me I think Motorola did it really well with that Supra with a little m logo and all that with a little batwing logo what not.
So let's just go ahead and take a look at the features of how to unlock cricket samsung galaxy amp prime 3 real quick says great cameras while capturing that just-in-time moment it's so important that galaxy and Prime press with the comb key when the screen is off we'll get the camera launch in less than two seconds capture great pics to share at or print with an 8 megapixel rear camera and a 5-megapixel selfie camera at once sound and shot well you can enrich your pictures by adding a few seconds of background noise I mean I like I like that they had these little features and all that stuff but I mean that's not just software stuff you know you can you can get that on the app so you can get all the stuff on Play Store I'm looking for you know specs hardware stuff that you can't just download you know it's just like they try to spice up a lot of these phones with you know all this other stuff like Samsung is really big on that it's just like oh it has this feature has that feature has this feature like okay but like I can get you know a million times more stuff onto Play Store you know I can get it so when you pick up my phone it you know it you know it rings an alarm like you're you know it has a motion sensor I mean it's just all different types of stuff you know you can make your you can make your phone into a mouse you know a mouse and keyboard or you can make it to uh you know a secondary display for your computer I mean this a whole slew you can make it to a speaker if your laptop is broken or if you're you know if you're speaking on your computer broken you can make this a speaker for your computer I mean there's like just you guys know crazy most applications that you can actually use and these little things that they like easy mode and this and that and the third it's just like yeah that's cool but that doesn't you know replace the fact that there's like not really good specs on the phone if since calcium primary comes with a beautiful HD display that is both easy to hold and still offers a large viewing experience five inches that's largely viewed experience nowadays five inches I don't think so it also has Corning Gorilla Glass five protection that gives you accident or added peace of mind for drops onto services it smarter phone this is again this is what I'm talking about Bigsby home gives you what you need when you need it get news weather scheduling reminders more all in one place without having to open any apps who asks for Bisbee Bixby I didn't ask for big speed like McGinnis choices so here you go Android Oreo 8.0 we got a processor of 1.4 quad-core we got your same 2600 milliamp battery really really low I mean compare that to the Super this thing is probably gonna just eat up your battery you know it's just like okay like I said 5-inch display right there 16 gigabytes of internal storage I mean come on Samsung you could have at least you know put that up a little bit mobile hotspot compatible includes Wi-Fi manager and it's got an 8 megapixel back got HD voice capable and did I say it's hot spot yeah hot spot ok so I mean says yeah nobody's reviewed it yet so I mean guys I don't I don't know man I don't think this is gonna be that much of a banger I mean you know it's just like just like how to hold on to me you know do you guys think this is worth it I think there's a lot of Samsung tacks going on right here and for 12999 it's not something to $30 guys and you're just getting a 5 inch phone with like basically last year's specs I mean or the year before actually and it's just not not really even anything that's somewhat appealing to me like uh I just man and you know of course these he's going through the thing right now so it's like man are we gonna have to like settle for these phones.