Hello everyone I am going to do a review of this Samsung Galaxy on5 now I'm just gonna go over the specs really quick.
It actually has Android 6.0 marshmallow and it comes in the box with the newest and your software which is really really good.
It has a 5 inch HD display in galaxy on5 which is pretty nice for a 50 to 60 dollar phone.
It has a 5 megapixel main camera with LED flash right here and it has a 2 megapixel front facing camera and it has 1.5 gigabytes of RAM inside default.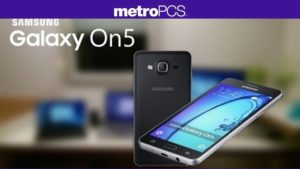 Now MetroPCS samsung galaxy on5 is completely removable it has a removable battery it has an exchange of part I mean you can put in a microSD there's a microSD slot and this is just a little nice there is very nice stitched back look which I really like and it looks really elegant it feels elegant as well it doesn't feel like the leather you can see in the galaxy note 3 or galaxy note.
Playing plastic it just feels like the normal plastic Samsung back cover for their lower series phones but I mean it adds a pretty nice look and it's not a fingerprint magnet either although it kind of shows fingerprints. If you can't see the designer kind of an aluminum kind of look but it's really not aluminum it's sticky plastic. I have to say it's not that bad I mean the grip is pretty good too.
Micro USB right here headphone jack right there and the microphone right here and the speaker right here at the bottom and there's the real speaker this is just a phone stay here and the volume the power button is pretty tactile and clicky at side.
Following buttons the home buttons are also clicky wait but then I would prefer a fingerprint scanner or so how fast is it that's one of the main things about smartphones um it has to be pretty fast people really like fast phones like iPhone the Galaxy S Evans that was really full v should makes a six-piece but this is not one of those days.
This has a very I believe there is Snapdragon 6 what maybe 410 I don't know it I really don't know what chip it is but it's not the fastest one that's what I can tell you I mean for $60 you don't really want to expect the same speed on your $650 phone like an iPhone or a galaxy or whatever so it's not the fastest phone and what is it good at well this is good at pricing it's a $60 again I'm just repeating it over and over again it's a really good price it's it's a really good value.
I should say so the screen isn't that bad it's actually pretty bright and it if you want to see a comparison between this and the galaxy grand prime don't click right here know if you see that video you will definitely notice that this phone is much brighter then that one although it's like $30 more expensive 20 or something like that if you want to see the galaxy s7 versus this one click right here again.
You will definitely see how slow this phone is compared to a $600 phone so the camera is pretty decent and your 5 megapixel camera it's it's a pretty decent camera it's really blurry the photos don't look great the color is very not it's not accurate at all and it's just not a great camera so if you love taking photos you should probably get at least the the don't get an entry model some more smartphone get like a mid like a mid to high level so the cameras not that good.
The UI interface I really enjoy the newest Samsung you user interface user interface it really color their knee it's flat it's white I love it and it's the animations are great too and I love these kind of rounded circle a squarish icons which kind of make it up for the Baptist buddy the bad or not the bad display not very good display and the kind of slow speed so should you get this phone well if you want if you don't want to spend $600 or even $200 on a smartphone or even $100 you can definitely get this for $60 if you don't care about camera speed especially for gaming gaming gamers don't get this phone.
Well I guess like simple games like color switch or maybe even possibly clash royale but pokemon ghosts not for this one I can already tell you that it's gonna like a lot it's gonna be really slow so if you don't care about those things and if you just want to browse and dose those things then I recommend you this phone.