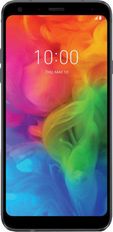 Today I'm gonna be doing the full review of the LG q 7 plus from MetroPCS and T-Mobile.
First and foremost what do we have in the box first off we have the unlock t mobile LG q 7 plus phone itself we have the Start Guide in English and in Spanish we have our USB type-c data cable with our wall charger with fast charge capabilities and we have our micro SIM tray ejector.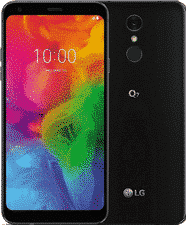 So taking a look at the build LG Q7 Plus is very reminiscent the LG stylo 4. We have the metal frame around the phone and a plastic back even though it is a plastic back it actually is very very durable and it doesn't scratch like the LG stylo 4 does.
We also have a USB type-c port a 3.5 millimeter head jack and a speaker at the bottom of the device. As far as the speaker goes it is pretty subpar. Now taking a look at the screen we have a 1080p by 2160 IPS display this is also our full vision display so we have that weird effect where the screen is somewhat curved on each corner the screen on this device actually has some pretty nice colors.
There really isn't any bleeding any type of tint on this phone but if you ever want to block the blue light there is a comfort view what to recommend using in the dark to put less strain on your eyes and avoid headaches and migraines. If you ever have any or you are susceptible to any of those health conditions.
Back of the LG Q& Plus you will find your 16 megapixel PDAF camera with the Q lens your flash and fingerprint sensor. As well as for the camera it is very decent in a well-lit environment but it does struggle in low-light at times as for the key lens I feel like it was just an afterthought and I don't think many people will utilize this feature due to being kind of buggy.
For our front-facing camera on unlock tmobile LG Q7 Plus it is 8 megapixels the portrait mode has to be one of my favorite feature. So far does a great great job of positioning the blur around you and/or your subject. As far as the video they record at 1080p 30 frames per second so we still don't see 60fps and I have to say the stabilization is very decent and you will get best results in a well-lit environment.
Now that we talked about the camera the most important thing next to that in LG Q7 Plus if you guys are using camera mostly is the memory so the memory that we get on board is 64 gigabytes of internal storage and we can up that to 512 gigabytes via micro SD card so you guys will have more than enough space to hold all of your favorite photos and/or videos next we have 4 gigabytes of random access memory and that is RAM for the people who do not know we have 4 gigabytes so for this phone it should handle pretty much any window that's open and it should hold the data on each page if you guys are on certain web browsers and/or applications now as far as the internals for CPU we have the Snapdragon 450 clocked in at 1.8 gigahertz we also have the Adreno 506 GPU in here so gaming is going to be fine with most graphic intensive games if we do get into highly graphic intense games such as pub G and other games like that there are gonna be some hiccups but it's definitely playable nonetheless as far as the native dialer a lot of people were asking and yes we do have video calling in our native dialer that's just something t-mobile and metro pcs offer as a service so that's always nice onto a key bed honestly typing on this phone is very very nice if you are moving down from something like the blade's Emacs the phone is going to be smaller in your hand but the nonetheless the phone is very fluent with typing and it's awesome also here are some of the emojis you might expect on this device before you buy it another thing that is always nice to see this we actually have a 5 gigahertz band on this device always nice to see on a budget phone just to get that faster connection if you guys do have 5g on your Wi-Fi will serve NFC on this device so with NFC obviously we can use things like Google pay we have Android Beam on this device as well as 2 shank photos he's going to be one of the easiest things to do if you have another compatible device all you have to do is hold the backs together and yes can share things like that pretty crazy stuff I know what you guys need to say about the battery I heard a thousand times in the comments yes it is 3000 Mel amps but this battery is actually very very decent the screen is very small so therefore the phone doesn't take up too much power in the actually last throughout the day I've had it last for the whole day on moderate use we also have fast charging capabilities with this device and it comes with a fast wall charger so honestly charges quickly if you guys ever need to charge it a couple more features in the sound Department that we have that are honestly really really nice and I've been enjoying them so far is hi-fi quad ack audio and DTS 3b surround sound you are going to need headphones to listen to this but they are amazing so for the hi-fi codec you basically get a real true-to-life sound and for the 3d surround sound from DTS you basically get a surround sound experience I think DTS is better for me a lot of people like qua doc but plugging your headphones turn it on and you are going to love it honestly experience is much much better with headphones and using hi-fi quad dac and or DTS X audio last thing I want to say about this device is this does have the ip68 certification so this is dust and water resistant obviously I wouldn't put this in a pool of water but it can withstand up to five feet of water for thirty minutes straight so that's a really really nice feature alright guys so is the LG q 7 plus worth it my answer is yes and no basically for the yes answer is if you get this phone and you have a port over say you say you're at cricket right now right and you want to port over your number to T-Mobile you can get this phone for only $99 now for $99 these specifications and the build of this phone is freaking amazing if you can get this phone for $99 set is in absolute steel again you are going to have to get the unlimited $60 plan but after that you can actually pay for a $30 plan or whatever plan you want to use but initially you have to pay for the $60 plan and you get the phone for ninety and nine dollars which is a hell of a deal so I would say yes for the people who want to do that now I would say no to the people who actually want to go to the store and pay over $300 plus tax on this device this device is not worth anywhere near $300 you can get much better devices such as the p20 light LG v 20 while we made SC for Less the price so why would you go to T-Mobile and pick up this device for over $300 it's just not worth it guys but if you guys don't care about the Silas for I don't care about the stylist inside of it don't care about the big screen you want a smaller phone and you're actually porting over I would say definitely go with this device it's a great device great price.