So you have a TNC and you only have about 70 to 100 dollars to play around with. Is ZTE Blade spark worth it? This is my full review and rundown of the ZTE Blade spark.
So what do you get for $70. For the screen we have a 5.5 inch 720 by 1280P screen with a ppi of 267 yes the PPI is pretty low but the screen actually looks pretty decent especially with the wallpapers that are preloaded on this device they definitely mesh well with the device and look surprisingly nice. My favorite being this red and blue material design comparable to the Google Nexus wallpapers the screen is also equipped with Corning Gorilla Glass 3 an ambient light sensor and a proximity sensor.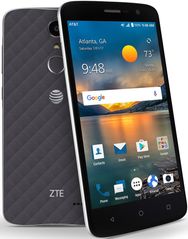 We also have a fingerprint sensor a beautifully designed phone reminiscent of a moto P Rex in my opinion and a type C port on the $70 phone. This day and age more and more flagships are converting to type C and it is nice to see they're not leaving the budget devices behind see what I did there, no, okay.
Moving on now to the internals under the hood we have a Qualcomm Snapdragon 425 chipset with 2 gigabytes of RAM which can handle pretty much any day-to-day use you throw at it such as Gmail social media and some light gaming is wall internal memory is about 5 gigabytes out of the box so you will not be downloading a whole lot of applications unless you have a microSD card and in that case this device supports up to 128 gigabytes of external memory so if you're that parent that takes a lot of pictures then I definitely recommend starting off with at least a 32 gigabyte microSD card.
Now moving on to battery there's a 3140 milliamp battery inside of this device I've been using this device for a few days now and I've had an average of about 4 to 4 and a half hours of battery life which is pretty decent considering it is a $70 phone but I have seen better batteries and phones such as the $99 cousins the ZTE Blade zmax and the ZTE zmax pro for gaming you will have some dropped frames with higher-end games such as injustice to Mortal Kombat X and asphalt 8 but if you're a casual gamer the 4:25 Snapdragon chipset should do you pretty good with games such as space frontier color switch and even Final Fantasy XV when there aren't a lot of background apps running that is as far as the camera well it is what it is it doesn't get the best shots and does get pretty noisy when it comes to low-light conditions but you're just using the camera to take pictures of your family then it will definitely get the job done and at an affordable price so should you buy this device my answer would be a definite yes there are tens of selling points with just a few being the fingerprint sensor the Auguste security patch and most importantly Android 7.1.1 which is really nice to see on a $70 device this device is absolutely solid and what have you even been a good phone at the original price of $99 but now that it is marked down to $70 at your local Best Buy or Target this phone would be a no-brainer ZTE has proven themselves worthy in the budget market time and time again and they never failed to make a solid sub $100 device that's gonna wrap it up for this one.