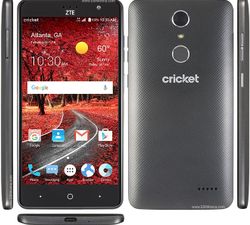 Unlock Cricket ZTE Grand X 4 z596 By Cricket Unlock Code
When it comes to unlocking your Cricket ZTE Grand X 4, you really want to go the most secure route possible.You can have your phone unlocked and ready to go in very little time.
When you buy a phone from Cricket network carrier to have some subsidy and save some money you face a drawback in terms of network carrier lock which can make situation difficult. Not being able to change a sim when you are in need it can be very depressing specialy if you are out of the coverage area of your network carrier and you loose your connectivity from every one. You're here that probably means you've been through all this mess and now you want a solution to avoid any such thing going further in your life. So in this guide i'll be telling you how you can unlock your ZTE Grand X 4.
So their will be multiple methods of unlocking your cricket zte grand x 4 you will come across on internet if you google it. But the best method to unlock phone is by unlock code because its the only official and legal method to unlock your phone uproved by both network carrier and manufacturer. This is one time and permanent unlock solution for your Grand X4 locked with Cricket Wireless. This unlock is compatible with any firmware and base band version. Once you have unlocked your phone successfully it remains unlocked even after firmware updates.
The things you require to place an order for unlocking Cricket Grand X4 are IMEI number of your phone, which you can find by dialing *#06#, or you can go in to settings and check about section in your phone's setting. Write it down somewhere for later use. The other thing you need is a working e-mail address for us to communicate with you.
So here how it goes, you need to go on the product page of ZTE Grand X 4 and fill the order form by writing IMEI name and email address and then checkout on payment page and place the order.
As soon as we receive your order we'll process it and then we'll send you your ZTE unlock code on the e-mail address you've given. After you receive your unlock code you need to follow the instructions given below.
Instructions for Unlocking Cricket ZTE Grand X 4
Once you get your Grand X4 unlock code, follow the instructions below to unlock phone
Insert a non-accepted GSM SIM card which is not supported by your phone
Your phone prompts for unlock code and will display a box to enter the code
Input the unlock code you received from us and press "unlock"
Your phone would display "Network unlock successful" message
Your phone is now unlocked and ready to use with any GSM SIM card.
Why use LetsUnlockPhone.com to get Cricket unlock code
No need to run any complicated rooting software or using any USB cables.
There is absolutely no risk of damaging you device or void your warranty.
Our automated system emailed you unlock code after completion of order.
Instructions are very easy to follow and no technical knowledge required.
We guarantee the lowest price in the market with fastest turnaround time.
Thousands of satisfied customers successfully unlocked their phone with us.
How can you benefit from unlocking my phone by IMEI?
1. You don't need to leave your home to unlock your phone.
2. Your phone can be used with any GSM SIM card.
3. You can avoid roaming charges when traveling abroad by using local SIM cards.
4. Increase the resell value of your device as it is available to more carriers.
5. You won't loose the warranty.
6. You don't need to have technical skills, all you need to to is to enter a code.